Today, April 1st, kicks off the next season of Project 333, an experiment in simplifying our closets to save time, energy and money for the more important things in life.
Here is my closet for the next 3 months: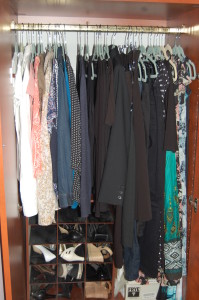 I am happy to report that I was able to toss some clothes and donate this pile.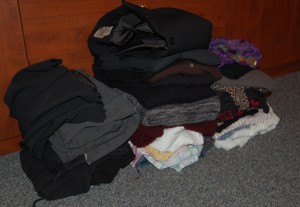 This time, I was able to include my pants and jeans in the count.  I still have not been able to pare down my tshirts, shoes, and purses.

Here is the one piece that gave me the most difficulty: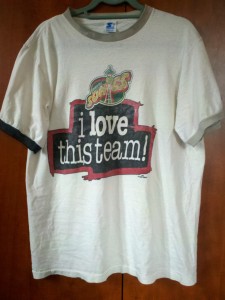 This Seattle Sonics tshirt was given to me for my birthday by my brother-in-law, Dallas, in 1995.   I had a huge crush on Shawn Kemp, whose dunks and energy lit up any arena.  Even though the tshirt is ripped at the logo and has been accidentally bleached, I keep it because it's the last gift Dallas gave me, before he passed away suddenly in 1998.  Kemp has long retired.  The Seattle Sonics are now the Oklahoma City Thunder.  And yet, every time I do a purge, I always end up putting this tshirt back in my drawer.  How could I throw out this precious memory of Dallas? I know it's not the item but the memory that is dear…but I'm not yet ready.
This Project 333 is not for the weak.  How did you do on your first day?  Did you have some sentimental clothes that you couldn't part with?  
If you haven't started, it's not too late.  Just jump in.  Click here for the rules.  Click here to see an example of Courtney Carver's list.
Share your success or hiccups with us…