One of my many fears is that I am becoming a recluse.  So every week, I make plans to see a friend.  Today, I ventured into the city to meet these two gals – Estela and Anita.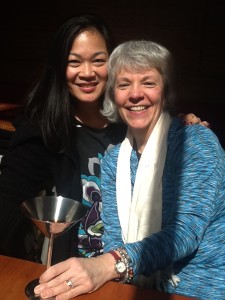 Estela is my sister.   Anita is my sister from another miss and mister.  We always meet at this place called Ayza  because they never rush us and their chocolate martinis ain't no joke.
I've read several articles that write about the importance of women friends…and I truly believe in making the effort to maintain these friendships.  Here's a well-written post by Rachel Anne Ridge that expresses this idea:
http://www.homesanctuary.com/rachelanne/2014/03/not-a-girlfriendy-girl.html
It's so easy to get caught up in work, the kids, husbands, etc.   But I find that when I make time to be with these girls, it really makes my day 🙂
How easy is it for you to maintain close friendships?  Please share with us your efforts.