I got my first rejection email for a press badge for New York Comic Con.  An excerpt from the email reads:
"Due to the growth of the Show and demand for tickets, NYCC relies on a more intensive application process for qualifying members of the Press. We are sorry to report your application cannot be approved after this more sensitive screening."
Even though I knew my application was a long shot, I was surprised at how disappointed I was when I read the email.
A few weeks ago, when I was feeling really good about the posts I was writing, I began dreaming big.  Imagine if, as a blogger, I could get press passes to events.  This could eventually lead to a two-minute interview with Prince at his next concert tour.  Dream big or go home, right?
Can bloggers, who want to write about special events, get press passes?  The application seemed easy enough (three links to my writing samples).  Shame on me for thinking 25 posts about my garden and failed-workouts would get me into the largest comic convention in the world.
My initial reaction was to close up this blog and never write again.  A month later, I'm thinking this could be the turning point (like the training scene in movies), where I start banging out weekly posts to get some real writing credibility.
Perhaps I should take a refresher course in writing or join a writers' group?  Maybe I should actually go to an event and actually write about it?  Did I really think writing would be so easy?
I can feel this blog slowly coming to a halt.  My 30-Day Ab Challenge was almost done, but I didn't finish.  The 100HappyDays Instagram project is way past its finish date, but I'm still on Day 93.  But, at least my garden is producing delicious produce.  Today, my first sunflower is in full bloom.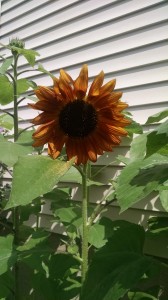 Not really sure where to go from here.  Summer makes it so easy to put everything off until the Fall.  But I knew I had to get this post out, just to get back on track.
After a setback, how do you get back on track?  Share with us your success stories 🙂