When the weather girl said there was a Nor'easter coming and we possibly might get snow (again), I was tempted to cry.   But I saw something that gave me hope that Spring was near.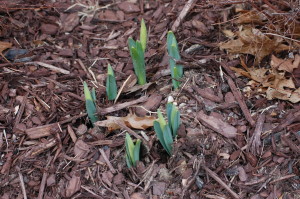 Last Fall, I finally got tired of arguing with myself about planting some bulbs for the Spring.  What kind do I pick?  What color?  How deep would they go in the ground?  What if nothing blooms?  This yearly argument has always ended with me say, "Maybe next time…"
Determined, I scheduled "Bulb Project" on my planner and just did it. I planted 100 tulips and 100 daffodils in my front yard.  The bulb-planting gadget that I got from Home Depot conked out around Daffodil #28.   So I ended up using a shovel and plain old elbow grease to finish the rest.
So here it is, Folks!  Signs of Spring!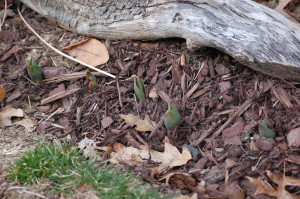 Even though it's still freezing outside, I'm hopeful.
Tell us, what signs do you see that Spring is near?